Edit : Je vous encourage à regarder cette page suivante pour savoir les formations que je dispense
Bonjour,
Une fois certifié SPC (SAFe Program Consultant), SAFe permet de dispenser d'autres formations SAFe comme Leading SAFe, SAFe for Teams ou encore SAFe POPM.
Pour dispenser ces formations, il faut regarder plusieurs vidéos, passer un test puis la certification associé. Pour SAFe for Teams, il s'agit d'un examen de 90 minutes. Si vous maitrisez bien Scrum, vous pouvez facilement louper l'examen car de nombreuses questions ont leurs réponses directement dans le document de préparation (et c'est pas que du bon sens). Lorsque vous recevez la formation SAFe for Teams et que vous vous certifiez alors vous devenez SAFe Practitioner (SP) :
Job role description / target audience
A SAFe 4 Practitioner (SP) is a Scaled Agile Framework® (SAFe) team member responsible for using Scrum, Kanban, and Extreme Programming (XP) in a SAFe environment. Key areas of responsibility include planning Program Increments and Iterations, breaking requirements into stories, developing incrementally with built-in quality, demonstrating value at a team and program level, and problem-solving impediments to drive relentless improvement.
Key areas of competency
Explain SAFe Agile Principles
Plan Iterations
Plan Program Increments
Execute Iterations and demonstrate value
Improve Agile Release Train processes
Integrate and work with other teams on the Agile Release Train
Perform as member of an Agile Team on an Agile Release Train
Si vous cherchez un formateur pour dispenser la formation SAFe for Teams, n'hésitez pas à me contacter.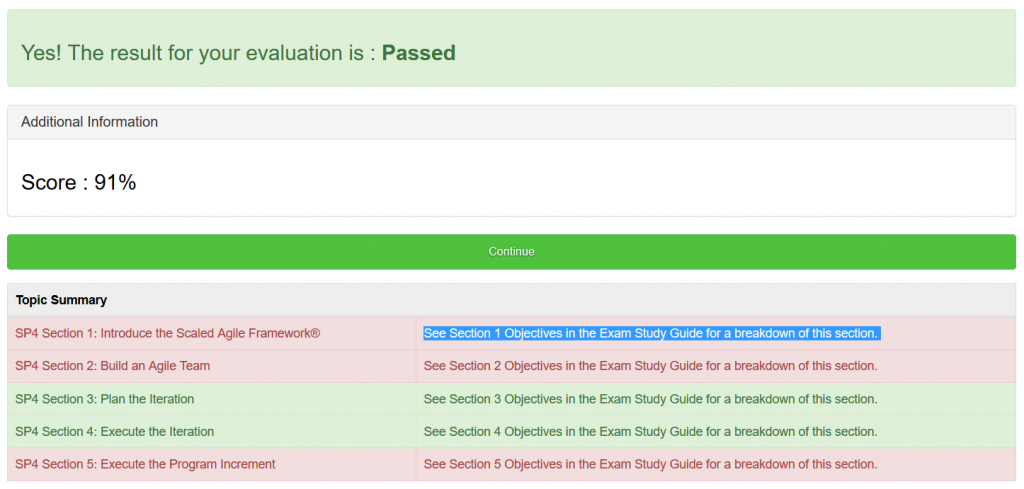 Plus d'information sur : https://scaledagile.com/training/safe-for-teams